APEX Developer Day Agenda
Note: Pre-registration is required & additional $35 fee required. 
Space is limited.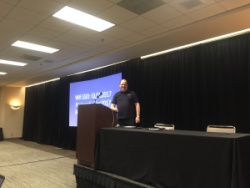 May 15, 2018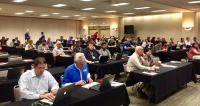 9:30 am 9:45 am          Welcome


9:45 am - 10:30 am      Low Code / High Productivity with Oracle APEX, Joel Kallman, Oracle Corporation
IT Departments, around the world, struggle to meet all of the organization's application requirements. The majority of the IT budget is spent developing, enhancing, and maintaining only the mission-critical applications. What about all of the other apps required by the business?  Many departments form their own 'Shadow IT' unit to build the apps they need.  More and more Citizen Developers are creating their own apps. The low code framework Oracle Application Express (APEX) is already being used by professional developers to build and deploy large-scale mission-critical applications for thousands of customers.  But also see how APEX can be used to help solve these non mission-critical app requirements quickly, reliably, and in a fully supported fashion that fosters collaboration and greatly improves an organization's IT capabilities.

10:30 am - 10:45 am     Break

10:45 am - 11:30 am     Oracle APEX New Features, Jason Straub, Oracle Corporation
The next version of Oracle Application Express will focus on declaratively integrating data sources from remote databases and extending applications running on the Cloud via REST. A new Create Application Wizard will enable you to add components and features to new and existing applications. Upgrading to the latest Oracle JET and jQuery JavaScript libraries will further allow APEX to take advantage of new and improved data visualizations and widgets. In this session we will preview those new capabilities and show some of the numerous enhancements to JET Charts and the Interactive Grid.

11:30 am - 12:15 pm     Lift and Shift Oracle Application Express in the Cloud, Francis Mignault, Insum 
In the past you used to have to buy servers to manage your technology stack. Now there are numerous options which allow you to quickly and easily deploy your APEX applications on the cloud. The tough part is deciding which cloud offering or tools to use. This session will cover Platform as a Service and Infrastructure as a Service cloud options available to lift and shift your Oracle Application Express (APEX) applications on the Oracle Cloud. It will also answer questions about what needs to be moved and how to do so including some live demos on the Oracle Cloud.

12:15 pm - 1:15 pm      Boxed Lunch

1:15 pm - 2:00 pm       JavaScript and CSS for PL/SQL Developers, Jorge Rimblas, Insum 
If you have been working with the Oracle Database for a while, but still feel lost when working with JavaScript and CSS in your APEX applications, then this session is for you. Working with HTML, JavaScript, and CSS doesn't have to be hard. Learn about CSS selectors, what is the DOM and working with it, as well as JavaScript functions. This session will provide you with some tools to work better with web technologies.

2:00 pm - 2:45 pm       Hacking Oracle APEX, Scott Spendolini, Sumner Technologies
There have been many conference presentations, books and webinars that discuss and demonstrate how to secure APEX applications.  But most, if not all of these never get into what an actual attack can look like and the damage it can end up causing. This session will demonstrate just that - actual Cross Site Scripting and SQL Injection attacks against APEX applications that do a whole lot more than print "hello, world".  In addition to the attacks, it will also cover what you can do to mitigate and prevent these types of attacks.

2:45 pm - 3:15 pm       Break

3:15 pm - 3:45 pm       Lightning Talks / Open mic  

3:45 pm - 4:00 pm       Final Wrap-up